EMiS webinar: German elections and Europe
14/09/2021, 8:00 am

-

5:00 pm
Germany goes to the polls on Sunday September 26 after 16 years of Angela Merkel as Chancellor and, arguably, the most powerful European leader.
Whatever the election outcome there will be a new Chancellor. But, as the most populous country and biggest economy in the EU, the change of leadership and government in Germany will have huge impact on the EU.
We will be examining the outcome and the implications for Europe three days after the election, on September 29, at 1700, with a stellar German cast:
Joining us are:
Andreas Botsch, head of the international department, the DGB (German TUC), for the SPD
Dr Rainer Ohler, partner consultant nat Senior Strategists, ex-head of corporate communications, EADS/Airbus and foreign policy adviser to Helmut Kohl, for the CDU
Dr Nils Redeker, Policy Fellow for European Economic Policy at the Jacques Delors Centre;
German Green MEP (TBC).
The webinar will be chaired by David Gow, ex-German Correspondent, The Guardian, and EMiS executive committee member.
Please register at this link:
https://www.eventbrite.co.uk/e/german-elections-implications-for-europe-webinar-tickets-171288136427
The ECFR commissioned a poll on the Post-Merkel era and here is a guide to findings:
BEYOND MERKELISM: WHAT EUROPEANS EXPECT OF POST-ELECTION GERMANY
by Piotr Buras and Jana Puglierin

Key data insights:

Merkel built public support for German leadership within the EU
Asked a hypothetical question about who they would vote for as 'president of the EU' if Merkel and Macron were the only candidates, significant pluralities in all countries (including France) point to the chancellor.
More Europeans believe that without Merkel, there would have been more conflict in the world rather than less.
A plurality of Europeans said they trust Germany on economic and financial policy (36%), and to stand up for democracy and human rights (35%) on behalf of the bloc.
Berlin's credibility, as a potential leader in geopolitics, is markedly low across Europe:
Just one in five citizens believe Germany can lead the bloc in its relations with Russia, and even fewer think Berlin can defend EU interests when dealing with China.
German citizens are also yet to be persuaded that their country should play a greater role within the EU:
Only on standing up for democracy and human rights do more than a third of respondents (38%) believe Berlin can defend European interests.
A majority (52%) of Germans now think that their country's "golden age" is in the past, meanwhile 36% of Germans, expect their country's leadership to become more focused on helping other Europeans.
Mark Leonard
Director
European Council on Foreign Relations (ECFR)
Unter den Linden 17, 10117 Berlin, Germany
4th Floor, Tennyson House, 159-165 Great Portland Street, London, W1W 5PA, UK
mark.leonard@ecfr.eu | www.ecfr.eu | @markhleonard | @ECFR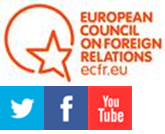 European Council on Foreign Relations
Unter den Linden 17
10117 Berlin
Germany

Email: communications@ecfr.eu

To opt out of ALL email communication from ECFR mailings please click HERE